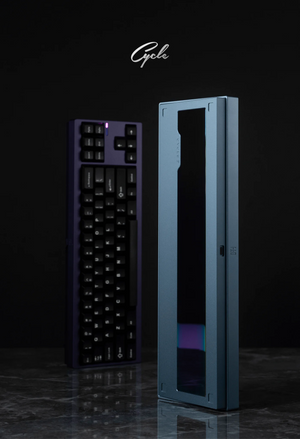 TKD
VERTEX and EQUALZ founded TKD six months ago. We named our first project "Cycle" (Cycle/Recurrence), reminding us not to forget the path we've traveled and the passion we uphold.
GB start time: 21st July 2023 20:00 EST
GB end time: 22nd August 2023 23:59 EST
EZ-assemble Structure
The keyboard community is creative. Mortise and tenon, ball-catch, pull-rod...various forms of EZ-assemble structures have brought more fun to custom keyboards. After studying various EZ-assemble methods, we believe that the ball-catch form is currently the most efficient and stable EZ-assemble solution, so we have adopted this scheme for Cycle7.
EZ-assemble Structure
However, we always believe that the true value of the EZ-assemble structure needs to be established on one premise: that is, to allow user to quickly switch structure forms and mod combinations according to their preferences.
Therefore, for Cycle7, we offer two structure forms and multiple mods for users to choose from, making the EZ-assemble structure especially important.
Cycle7
Gasket Mounting
Cycle7 uses two types of Gaskets, and with the EZ-assemble, the internal mounting gaskets can be changed within 1 minute without the need to use any tools
Gasket-Bean
Provides a more elastic and interesting typing experience.
Gasket-Strip
Offers a more delicate and soft typing experience.
Flex Cuts
We always believe that through Flex cuts can maximize their function. Various forms of Flex cuts have appeared in the keyboard community, and we have adopted what we believe to be the most efficient and controllable scheme to provide users with elastic typing experience in the alpha area.
PCB-cut Plugs
PCB flex cuts are indeed effective in providing a soft and bouncy typing feel, but their impact on the sound performance of keyboards without foam is fatal. Therefore, we have designed PCB-cut plugs. Compared to Tape Mod, it can provide better sound performance.
Of course, Cycle7 also comes standard with various types of foam (PCB foam, under switch PE layer, Case foam) to meet the demand for a "thockier" sound.
Options
PCB & Layout Design
- Wired Only VS Wireless

- WK VS WKL

- Hotswap VS Soldered
Wired Only
Developed with the official QMK library, supports VIA/VIAL
Wireless
We have contracted a hardware development company in the peripheral industry. They have customized a wireless firmware solution and dedicated driver for Cycle7. In preliminary testing, the latency of Bluetooth and 2.4G reached a level that surprised us. It's equipped with two 2200mAh batteries to ensure battery life in wireless mode.
Hotswap
Soldered
Material and Surface Processing
TKD Coating
Since we founded TKD, we have been researching and mastering the use of this process on keyboard cases. We have made good progress and for the first time in the Cycle7 project, we have adopted the TKDcoating electrostatic coating process.
Case
The keyboard case is made of 6063-T6 aluminum and produced by CNC, with anodized and coating surface treatments.
Battery Cover
The keyboard comes with two H62 brass battery covers, finished with sandblasting.
Stainless Steel Weight
A large stainless steel weight is attached at the bottom of the keyboard. The surface treatment includes mirror polishing, sandblasting, and PVD.
Pictures