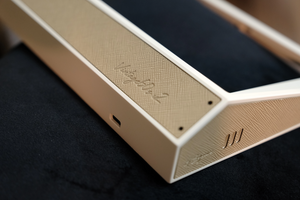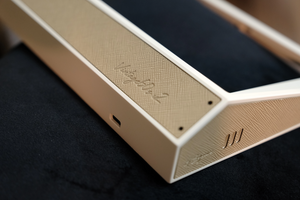 Vintage is the consistent trend
G-Square Studio Vintage60s
We're existed to introduce Vintage60s designed by G-Square Studio, a retro-themed sleek keyboard named the "Vintage 60s"! A detailed design with many different textures and styles, as well as some special editions, this board is a beauty to behold~
File
Note: We want to provide the uncut PCB and Aluminum Plate selection in this GB. But due to the limitation of SKUs in one product, we can not make them as a selection in the Keyboard Product.
1.The default PCB and Plate is Flex-cut, if you want to change them to Uncut, please add the "Change Default PCB To Uncut" and "Change Default Plate To Uncut Aluminum" in your order.
2.Customers who customize the picture at the back of the weight, our support team will contact you to provide after GB.
The first kit made in the circle was the Vintage 80, and a year later the Vintage series continued with the Vintage60s. 80s was not favored at first, mainly because of the large, and the vintage look was rather niche, but sales were also over budget, still quite satisfying, the V60 v1 was much better than the 80 when it went on sale, probably because of the solenoid valve, sales were 5 times that of the 80, and the distance to the v1 are almost 2 years old, off and on there was a lot of people asking for it, thank you very much for the support! v1 was run only to China, however after the reiterations over the years, the new and improved v2 will be run both.
68 0r 84 Layout
Vintage60s Support 68 or 84 Layout. Standard Vintage60s will come with 84 Layout, 68 Layout requires extra panel.
G-Square
Classic Design
Vintage is always appreciated. G-Square Studio has collected lots of feedback of Vintage 80. After two years, they bring Vintage60s back with more mature design.
Solenoid & Buzzer
The biggest technical feature of the Vintage60s has of course been kept in - the solenoid! This time it has been joined by its close brother, the buzzer - these can be switched in and out based on preference, and switch key on the PCB as well! Don't miss it if you have a grudge on your roommate.
PVD Color Choice
Weight, Badge and Front decoration bar all have four different color options, they are Chroma, Gunmetal, Silver and Gold.
Mounting Style
Top Mount with Gasket Support
The mounting has changed from v1 to top mount + gasket mount, with a special silicone o-ring for cushioning - the plate and pcb are cut for soft elasticity - there is a question in the IC form for those of you who wish to request an uncut plate and PCB, so we may be able to provide those too, for those of you who don't enjoy flex cuts~!

Colorways
Aluminum case finished in either
Anodization, Electrophoresis or Electrostatic spraying
Color available in Black, White, Light Beige, Red, Yellow, Dark Green, Silver, Wine red, Cream, Pink
CNC Process
G-Square Studio have their own CNC factory, Vintage60s case will be manufactured by themselves.
Specification
► Materials: 6063 aluminium case, brass front bar, PVD stainless steel badge and weight
► Layout:
► Mount: Top + gasket mount
► Plate material: PC, aluminium, FR4
► PCB: 1.6mm, compatible with 3 and 5-pin switches and Plate-mount stabilisers, QMK and VIA-compatible, hotswap only.
► Foam: poron foam pack offered
► Typing angle: 7°
► Dimensions: 350mm wide, 181mm long, 21mm front height, 51mm back height
► Weight: ~2.95kg
Q&A
What will be the estimated pricing?
Estimated pricing for different versions as follow:
- Standard Edition: ~$385
- Special Edition: ~$425
- Full Copper Edition: ~$1.8k
- Eleksmaker bespoke panel set: ~$29
Estimated pricing subject to change and finalized pricing will be available before GB.

When will be groupbuy start?
Current GB time is still being decided - however shipping date is estimated to be 120 days after it closes.
Will this be unlimited groupbuy?
Unlimited as of now.
Gallery
Winshop Collab Cables!