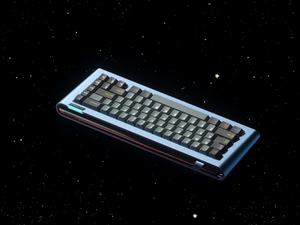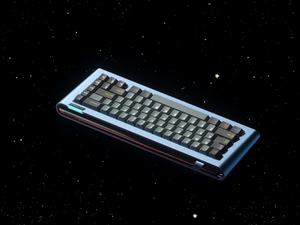 Introducing our second keyboard collaboration project with another Chinese design studio - Pixelspace. Out of fascination with science fiction, Pixelspace incorporated lots of the related symbols into their designs. Endless, a sci-fi themed 80%/TKL keyboard, is their first project and has been loved and well-supported by enthusiasts.
Pixelspace
CAPSULE
On behalf of founder of Pixelspace, young777, please allow us to introduce Pixelspace's new sci-fi themed project, Capsule. (Kudos to York for support with renders here.)
DESIGN
Capsule has been designed in the popular 65% layout, which is both compact and practical, and the overall style continues the sci-fi theme from Endless.
Power Indicator LED
The top right of the kit is adorned with a translucent power indicator LED nameplate to enhance the Capsule's recognizability and detail from the top. The sides feature a curved design that allows a smoother connection between the top and bottom, combined with a weightless bottom design, preserving the fluidity and consistency of the kit's look, contributing to a more aesthetically pleasing appearance.
PVD Mirror Side Strip
On the connector-side of the kit, we used a copper PVD mirror side strip with a recessed USB-C port module, which sets the tone of the kit to a more restrained, minimalistic style. With the curved design and futuristic vibe, this project left the word "space capsule" deep inside my heart to be the name of this creation - thus, the "Capsule" was born.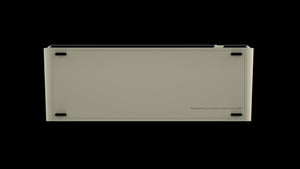 The Capsule follows a 65% layout, and utilizes gasket mounting. We have chosen three different materials for the plate: FR4, PC, and POM. After giving serious consideration to the hardness of the plate and the gasket's material, thickness, density and compression ratio, we chose soft silicone as the gasket material, which not only creates a light feel and good flex, but also makes it easier to install. For the plate foam, we have chosen a 3.5mm high density Poron® foam, with a 0.5mm PE switch muting sheet.
Case Foam
2.5mm high density Poron® foam, for a crisp and bright tone.
Both options guarantee a soft and bouncy feel as well as making each keypress feel effortlessly powerful. In addition, to ensure the whole kit is beautiful and comfortable to use, we set the typing angle to 6°, to accommodate most enthusiasts' typing preferences.
PCB and Layout
The PCB will be 1.2mm thick with flex cut; the thinner design will give the PCB more of a poppy feel to the overall kit. Stabilizer shims will be provided to compensate for the thinner PCB. Both ANSI Hotswap and ISO/ANSI Soldered PCB will be available.
► Top and bottom case: Aluminum
► Curved front strip: PVD Brass
► Nameplate module: Aluminium
► USB-C port module: Aluminium
► Plate choices: PC, FR4, POM

► Plate foam: 3.5mm Poron® Foam
► Switch muting sheet: 0.5mm PE Foam
► Case foams: 2.5mm
► 1.2mm PCB with flex cuts Hotswap/Solder
► USB-C daughterboard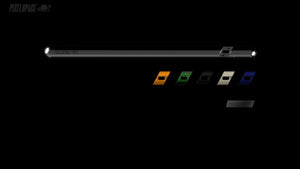 "After 8 rounds of prototyping, the Capsule was finally at the level we wanted it to be. The process was hard and time-consuming, but I believe that the end result was worth it, both in terms of looks and feel. Let"s see how it looks in real life!" - Pixelspace

Capsule is a space themed 65% mechanical keyboard kit with a retro-futuristic. It's Pixelspace Studio's 2nd space themed keyboard design.