We're delighted to introduce Sunset 80, a board with a unique Damascus weight. Every Fox Lab project has a key theme that it is designed around, and this time the theme is sunsets, from the light feature, weight, general design choices, and more.
DESIGN
The Sunset is a keyboard designed initially with the idea to make a simple and unobtrusive design – we strived for simplicity while having enough uniqueness to make it recognizable. The very narrow side bezels look very clean, especially with cherry profile keycaps!
Sunset
The sunset-shaped light feature on the front is the finishing touch – a 3D sculpted crescent, depicting a sunset halfway between a mountain and a river backlit with configurable RGB light module. RGB can be varied quite a bit as well.
Ergonomics
Sunset is designed with ergonomics and comfort in mind with a 7.5° typing angle and 18.5mm front height.
MATERIALS AND SURFACE TREATMENT
Weight
Mirror Stainless Steel Weight: The large weight seen in the picture is machined from stainless steel, before being mirror polished. It adds a decent amount of weight to the overall build as well. Mirrored weight represents the sky during sunset.
Body
Main Body: The main keyboard body is made of 6063 aluminum alloy, with an anodized finish. 3 colors are offered: obsidian black, moonlight silver, and Bordeaux red.
The Damascus Weight
The special weight feature we shall talk about now – the expensive titanium Damascus weight piece and also the Damascus used in the light feature – Damascus is a composite material created from multiple pieces/layers of a metal, titanium in this case, welded together and forged, before being etched in an acid to reveal the pattern of the layers that can be seen on the material. The Damascus is used in the arch in the light feature, as well as the circular weight piece at the bottom of the board – as seen in the picture, with the name of the board "Sunset" engraved into the piece. Due to the nature of Damascus, every piece will look different, giving each unit its own uniqueness.

INTERNAL STRUCTURE
The keyboard utilizes a PCB Gasket sandwich, with a 1.6mm PCB and separate mother and daughterboard. The mounting tabs are on the PCB, meaning this can be both built with and without a plate. The mounting tabs incorporates a leaf-spring design to allow for a softer and more flexible typing experience. The gaskets used are LE20 Poron foam, and to provide further mitigation of unwanted movement, there are POM alignment pins in the corners to stabilize the build.
► Top and bottom case
► Stainless steel main weight
► Stainless steel sidebar
► Titanium Damascus Sunset weight
► Titanium Damascus light piece
► Acrylic light diffuser
► 1.6mm PCB

► Daughterboard and connector
► RGB light feature daughterboard & connector
► Gaskets
► POM alignment pins
► 0.5mm poron case foam
► Stabilizer shims
► IXPE PCB sheet

► Rubber feet
► Weight protection film
► Optional solder PCB
► Auxiliary solder plate (standard w/ soldered)
► PC positioning plate (standard w/ hotswap)
► Poron plate foam (standard w/ hotswap)
► Screws

When going plateless, meaning building without plates, will be very challenging to solder the switches. If not carefully enough, switches can be crooked from soldering. So we provided a Switch Alignment Plate to help solve this issue if you decided to build it plateless, and you can easily remove the solder support plate once the build is finished. We also provide Hotswap PCB option, but Hotswap PCB cannot be built plateless, so we will pair PC plate with hotswap PCB.
Soldered
It will have support for stepped caps lock, split left & right shift, split backspace, ISO enter, and 6.25u/7u spacebar bottom row.
Hotswap
A standard ANSI layout, Tsangan bottom row.
COLORWAYS
Obsidian Black
Moonlight Silver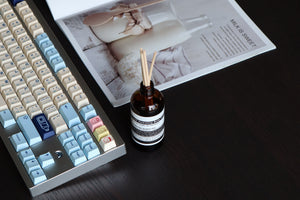 With its simple shape, elegant lines, exquisite details, comfortable bezels, and flexible typing feel, we hope that Sunset will be as beautiful as the beautiful sunsets in the sky, bringing you a touch of warmth and beauty before the long night. More information and details can be found in upcoming review videos and streams, and for any questions please direct them to our Discord (which can be found below)!
► Materials: 6063 aluminum, stainless steel, Damascus titanium
► Layout: 80% Tsangan with F13 / 80% TKL with WKL blockers and F13
► Mount: Gasket Mount
► Typing angle: 7.5°
► Front height: 18.5mm
FREQUENTLY ASKED QUESTIONS (FAQ)
Estimated pricing: ~$485
!!! Estimated pricing is subject to change and finalized pricing will be available before GB.
We will be from 01/20-01/25/2023
There is a 180 unit limit for each color.