Introducing the Sand Glass Ergo 70%, Fox Lab's latest innovation. Building on the success of our first Alice-layout keyboard, the Sand Glass 80%, we've streamlined the design to create a compact 70% variant—the "small sand glass". Featuring the same distinctive sand glass-inspired shape and frame, the Ergo 70% omits the F-row for a sleeker, more ergonomic experience that effortlessly combines style and functionality. Discover the perfect balance of form and function with the Sand Glass Ergo 70%.
Groupbuy Details
GB start time: 05/12/2023 8:00pm EST
GB end time: 05/18/2023 23:59 EST
This groupbuy will be limited to 400 units!!
Shipping date is estimated to be Q4 2023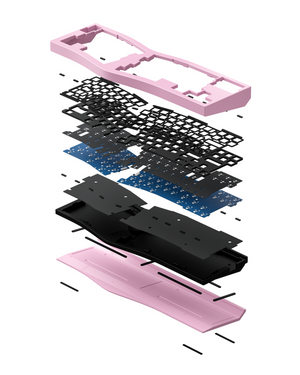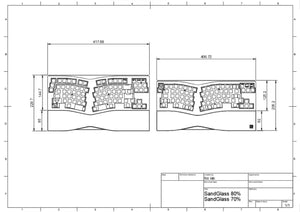 First, we adjusted the overall width and length of the appearance, and then arranged the keys more compactly according to the layout, making the key layout and frame harmonious and unified. The result is making the layout more exquisite and coordinated.
Aesthetic
The Sand Glass Ergo 70% boasts a captivating design that stays true to its sand glass inspiration, without unnecessary embellishments. With three-section partitioning and varying angles, the keyboard ensures seamless transitions and reduced gaps between keycaps. Enhance your ergonomic typing experience with a matching wrist rest featuring the elegant "沙漏" symbol—expertly crafted for both comfort and style.
Structure
The Sand Glass Ergo 70% features a striking three-layer design with contrasting colors for a rich visual hierarchy. The middle layer houses all wiring for easy installation, while the screwless bottom case offers a clean, minimalistic look. Enhanced by a shock-absorbing layer for a cushioned typing experience, the 8-degree typing angle and gasket design separating the plate and PCB ensures a soft, elastic feel with increased stability and horizontal proximity.
The Sand Glass Ergo 70% offers a refined design, achieved by adjusting width and length, and incorporating a compact key arrangement. This attention to detail creates a harmonious and unified layout that is both visually appealing and well-coordinated.
Plate
The plate still uses the hollowed-out design of 80%, but it is not so extreme, and more consideration is given to its consistency and stability.
PCB AND LAYOUTS
PCB based on QMK firmware and are VIA compatible
Hotswap
Standard ANSI FRL-TKL Alice layout
Soldered
ANSI FRL-TKL Alice, with stepped caps, split left shift and backspace

Pricing
Keyboard with wrist rest: $435
Keyboard without wrist rest: $405
Carbon fiber wrist rest top piece upgrade:
Combined with base board: $475 total
Additional CF wrist-rest top piece: $58
FREQUENTLY ASKED QUESTIONS (FAQ)
Estimated pricing for different versions as follow:

Keyboard without Wrist Rest: ~$405
Keyboard with Wrist Rest: ~$435
Keyboard with CF Wrist Rest: ~$475
Additional CF wrist-rest top piece : ~$58


We are looking to start GB by the end of April or early of May 2023.