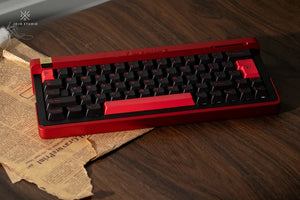 This is the second project of JOJO R-Series. It is named R63, first of all, that's because of its default 63 keys layout. Also, the current case is suitable for a 60-kets PCB, so we also provide a second choice of PCB.
This in-stock sale, we only offer the Red and Green 60-keys Version. If you have any futher suggestion, please fill the IC form, we will consider later. Thank you!!
Inner Design
JOJO R63
Case Design
A battery compartment is reserved on the forehead, which provides upgrade space for players with wireless-mode requirements.
JOJO R63
60% Layout makes the appearance smaller.
JOJO R63
The top and bottom are integrated to make the visual of the side more integrated.
JOJO R63
Make the keycaps closer to the "forehead", so the Cherry profile keycaps will be more suitable.
Structure Design
Red
Green
Cream
Pink