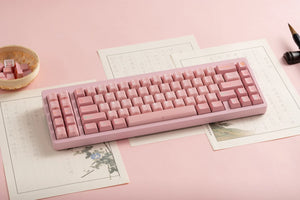 Like A Dream
By Li Qingzhao
I often recall the dusk at the river arbor,
Highly drunk, I lost my way back home.
Having lots of fun, rowed the boat homebound,
And strayed into the lotus pond.
A struggle to cross,
A struggle to cross,
Scaring up a pool of gulls.
Introducing the first product of Great Artist Series from Hifi Fox
-- the Great Artist Lotus
After the ABS "Silent Eco" series in collaboration with @DOMIKEY, Hifi Fox and DMK are embarking on a new journey with the Great Artist series. This series consists of three chapters, each expressing their love for traditional Chinese culture from different artistic perspectives.
Li Qingzhao
Xi Ting Ri Mu
The first chapter of the series is inspired by one of the Chinese Great Artists - Li Qingzhao's poem - "溪亭日暮" (Xi Ting Ri Mu), which falls under the Literary Art theme.
Design
Colors are extracted from the scene described in Li's poem "如梦令. 常记溪亭日暮" (Like a Dream - The dusk at the river arbor I oft recall).
The low-saturation pink is infused with sunset red, lotus orange, and lily pad green characters and patterns.
Amid the cluster of red, orange and green is the semi-transparent pink lotus petal illuminated by the central sunlight.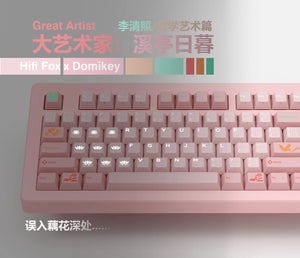 A delicate and ethereal interplay against the white backdrop. (Note: Non-backlit, for design concept demonstration only)
Lotus
Apart from Novelties provided in the functional zone, the alpha area design features interchangeable lotus flower
novelties—three different states of lotus blossoming at different times, each layout corresponding to three different height key positions in the alpha area.
The blending of pink and orange, pink and green hues bring a vibrant mix to the overall pink ambiance.