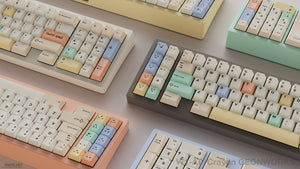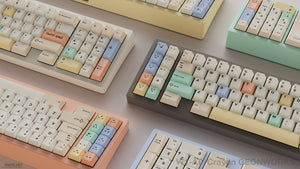 Bubble Tea + Pastel Emoji
Intro
We're honored to introduce a new keycaps series from Onekey --The base named "Bubble Tea" paired with different themed novelties.
Designer Hongoo plans to update the themed novelties kits monthly or quarterly, allowing continuously explore new bubble tea-inspired flavors. The first themed novelties named "Pastel Emoji".
To add more opportunity for personalization, designer tried to capture the essence of hand-drawn emoticons, emphasizing a certain doodle-like quality. In the meantime, each individual expression has been crafted with a delicate touch, ensuring that even when mixed and matched, they won't exhibit an overly dominant style, making them easy to complement one another.
DIY
Your own Emoji
Designer Hongoo has also prepared an interesting DIY activity for everyone - creating your own emoji by doodling. Emoji is something that permeates all of our daily life. Even those without professional drawing training can easily draw a universally recognized smiling face emoji. Even for the same emoji, it can look different depending on the individual and their current mood. This uniqueness and unpredictability are what make emoji emoticons fun.
So why don't we work together to create a set of emoji? In the kits, Hongoo included some partially blank 1u keycaps, with only the upper part being the eyes and some with just the lower part being the mouth. This allows everyone to complete their very own EMOJI through a simple DIY process.