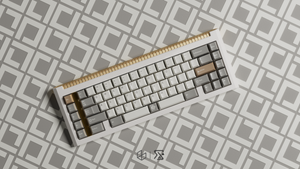 Since the launch of AXE60, S61 has been patiently designing and modifying new keyboards while also thinking about how to make his design serve more players.
After careful consideration, S61 has decided to split the style into two main branches, where the Nordic mythological style of AXE will continue and the other is in sci-fi style.

The AeroBoard70 is part of sci-fi series.
More Building Details
Aeroboard70 inside detail
PET film is required when mounting without any poron or paper
Different PCB choice makes your love typing sound
The correct installation position according to the height of gasket blocks
Aeroboard70
Inspiration
Inspired by the hard straight lines and grid elements from sci-fi vehicles and electronic products. "Aeroboard" is derived from the meaning of "aeroboat" to express a sci-fi looking of hybrid spacecraft.
Your choice of Gasket hardness
Two kinds of hardness silicone are provided to further enhance the playability. The dark gray silicon is harder.
Leaf-spring tabs are in staggered positions on the edge of plate and PCB. at least four kinds of mount can be chosen, adjust according to your preferences.
HA 50 or 40 Dual-leaf Mount
HA 50&40 Dual-leaf Mount
PCB-leaf Mount
Plate-leaf Mount
Stabilizer Quick Mount
You can customize with ease! Aeroboard70 has a stabilizer quick disassemble Plate design. You can switch stabilizer without disassemble the internal.
Highly symmetrical appearence in WKL layout accompanied by a subtle PVD SS decoration bar

RGB Ambient light strip inspired by spaceship thruster covered by tempered glass
QMK + VIA compatible
Hotswap PCB
Stepped Caps Lock
Splittable Space (7U=3U+1U+3U)
Symmetrical WKL
Standard - Black
Standard - White
Standard - Violet Blue
Standard - Red Violet
Standard - Silver
White Gold
Exploded View
Prime Keycaps
Aluminum Keycaps
Brass Keycaps