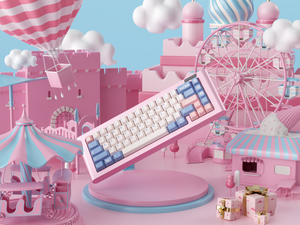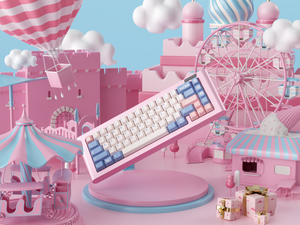 The Zero-G Studio"Fantasy Land" Triple/Double Shot Cherry Profile Keycap Set is now in IC. Please fill out this IC form if you're interested or have any feedback
Design Inspiration By Desingner
Gift V2- We define the theme as "Fantasy Land", which still continues the design concept of gift theme. We hope that we can always keep a childlike innocence and have our own exclusive paradise.
The design follows the color scheme of Gift R1, with Macaron blue, pink and cream white as the main colors.
This paradise is a reverse color scheme of gifts.Looking at the sky, the blue sky with a pink glow in the white cloud. It's like a Fantasy Land in the clouds.
We not only designed the core elements of the theme park.
In China, the Chinese zodiac in 2023 is rabbit, so we also added the element design of rabbit in the design. There are three cute rabbits in total, which are our modeler wutong, graphic designer yama, and of course me.
Color Palette
PATONE 9244C PATONE 7681U PATONE 503U
Kits
The "Fantasy Land" keycap is designed by Zero-G Studio and manufactured by Domikey.
Base - A
Base - B
Alpha - A
Alpha - B
Alpha - C
Novel
Numpad
Spacebars
Deskmat - Pink